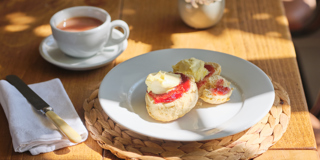 Food & Drink
Enjoy fresh Heligan produce, the finest home reared meat and locally sourced ingredients in our home-cooked dishes.
Whether you're looking to experience some traditional Cornish fayre, or sample the heritage fruit and vegetables grown onsite, the Heligan Kitchen, Stewards House and seasonal outlets can provide the perfect treat for you.
To see our latest menu for the Heligan Kitchen, please click here.
To view the latest menu for the Steward's House, please click here.
Current Hospitality Opening Hours
Current Hospitality Opening Hours
Location
Hours

Heligan Kitchen


9am - 4:00pm - Breakfast 9am -11.30am, lunch 12pm-3pm
Sunday breakfast finishes 11am

Steward's House


Weekdays - 10am - 3pm, Weekends - 10am - 4pm

Although we don't grow enough produce to supply our Kitchen with all its daily requirements, we supplement our bounty with other quality locally sourced items. With the majority of our suppliers being from Cornwall and the South West, we are really proud of the regional provenance and flavours we create.
From summer salads and barbeques in our picnic areas to warming winter soups and stews beside the roaring log burner, our dishes are served daily between 12:00pm and 3:00pm and are created to reflect each season.
These homemade dishes cater for everyone and we ensure that we provide scrumptious options for those with any allergies or dietary requirements. Our Hospitality team are always on hand to discuss our dishes should you have any queries.
If you'd like to indulge in the offerings from the Heligan Bakery, why not pick up a freshly baked loaf of bread or home-made cake to enjoy after your visit. 
For beautiful home-made cakes, breads and buns simply call 01726 845106 to place your bakery order for collection.
There's Free Entry to the Heligan Kitchen, Shop and Plant Centre all year round so even if you're not visiting the gardens, we'd still love to see you!