National Collection
In 2008 The Lost Gardens of Heligan was granted National Collection Holder status by Plant Heritage for its historic and unique National Collection: Camellias and Rhododendrons Introduced to Heligan pre-1920.
There are more than 70 veteran camellias and 350 ancient rhododendrons included in the collection, which are found throughout Heligan. The earliest planting is Camellia Japonica (Alba Plena) in 1792 and can be found at the top of The Ravine.
During the period of decline in the gardens and estate, many plants, both wild and cultivated, flourished unrestrained. The specimens of Heligan's National Collection were given both time and the protection of surrounding overgrowth to mature into the magnificent specimens, which can be marvelled at today.
The rhododendrons and camellias of the National Collection are valuable living links to the horticultural past of the gardens and estate and play an integral role in the diverse and beautiful landscape. Whether they are forming stunning backdrops to walled gardens, rambling gracefully above paths, taking centre stage, or standing stately amid flourishing plantings, the breathtaking beauty of these ancient specimens is awe-inspiring to behold.
Squire John Hearle Tremayne made the earliest camellia plantings. These include varieties such as "Althaeiflora", "Anemoniflora" and "Fimbriata". Later plantings in the 1870s and 80s by Squire John Tremayne feature some of the continental varieties, "Lavinia Maggi", "Auguste Delfosse" and "Eugenie de Massena", whilst the most recent varieties, "Gloire de Nantes", "Fleur Dipater" and "Madame Martin Cachet" were planted by the last Squire of Heligan, Jack Tremayne.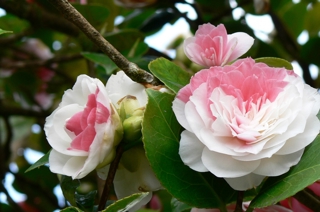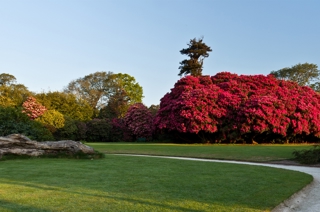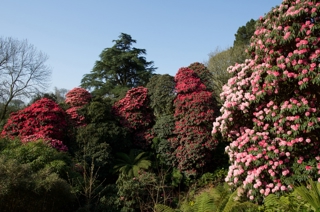 The earliest rhododendrons in the collection include species such as arboreum, niveum, grande and falconeri. These were raised from seed collected by the great plant hunter Sir Joseph Dalton Hooker in India, during his expedition of 1847-51. Twentieth century introductions include rhododendrons decorum, griersonianum, ririei and sino-grande.
The complete files containing photographs and all the research that has finally enabled us to name much of the historic collection can be viewed in the Heligan Shop.
In 2009 Heligan was invited to take a place in the Plant Heritage marquee at the RHS Hampton Court Flower Show. We created an interpretive display about our National Collection detailing the fascinating stories of individual plants from Heligan's collection. The display was awarded a Gold medal as a floral and educational display.
For more information about National Collections and to view our entry on the Plant Heritage website, click here.