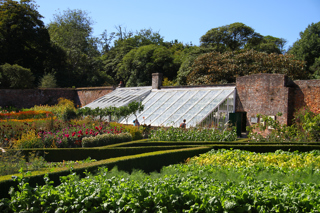 Gardens
Step back in time and lose yourself in Europe's largest garden restoration; a world of romance, nostalgia and adventure awaits your discovery.
Thirty Three years ago, The Lost Gardens of Heligan were rediscovered from the brambles of time. Today, Heligan remains one of the most loved and romantic gardens in the UK, appreciated as much for its beauty and mystery as for the ground breaking restoration project.
Over 200 acres are now a paradise for the explorer, wildlife, plant lover and garden romantic. Victorian Productive Gardens and Pleasure Grounds beckon, along winding paths laid out over two centuries ago. The Jungle takes you on a sub-tropical journey through bamboo tunnels and under majestic tree ferns, giant rhubarb and bananas whilst the estate reveals a lost world of traditional and rare breeds, wildlife and ancient woodlands.
Heligan is a garden for all seasons, so whether you plan to visit in the hazy buzz of mid-summer, or the tranquillity of winter, you are guaranteed a unique experience.
The Lost Gardens of Heligan is a member of The Great Gardens of Cornwall, a group of the finest Cornwall gardens on offer. Should you be planning to visit more than one Great Garden, make sure you pick up a Great Gardens leaflet to take advantage of the discounted entry offer. 
Welcome to the Finest Productive Gardens in Britain; sure to top any list of gardens to visit for inspiration or contemplation.

Once acting as both a garden for pleasure and a status of wealth, Heligan contains an intricate collection of gardens, each with their own unique plantings and atmosphere.