Timeline
Learn all about the history of Heligan. From 1200 right up until the present day.
:
Chapter 1
Early History: 1200 - 1766
1200's
:
Heligan Manor first built.
1569
:
Sampson Tremayne completed purchase of Heligan.
1603
:
William Tremayne built Heligan House in the Jacobean style.
1692
:
Sir John Tremayne rebuilt the house in William and Mary style using Heligan bricks.
:
Chapter 2
Development of Gardens: 1766 - 1914
1766 - 1829
:
Henry Hawkins Tremayne - Squire Henry Hawkins constructed the network of rides around the Northern Gardens and throughout the estate.

Shelterbelts against SW gales planted and walls of Flower Garden and Melon Yard built.
1829 – 51
:
John Hearle Tremayne. - Squire

Fully functioning Pineapple Pit. Heligan competes for biggest pine against other local estates.

Bee Boles constructed.

Home Farm thriving.
1813
:
Married Caroline Matilda Lemon

Establishing connection with plant hunters.
1832
:
The new Long Drive to Heligan House planted with Bethamia fragifera (Later Cornus capitata).
1851
:
Hooker Collection of rhododendrons secured for gardens.
1851 – 1901
:
John Tremayne - Squire Development of planting of Northern Gardens and Japanese Garden using new, imported exotic species.
1890's
:
John's son John Claude built Ravine
1896
:
Sundial Garden described as having "The finest herbaceous border in England"
1901-1914
:
John Claude Tremayne - Squire

Continuation of planting Japanese Garden (now Jungle).
1905 – 07
:
Davidia involucrata planted in Sundial Garden.
1906/07
:
:
Chapter 3
The Lost Years: 1914 - 1990
1914-18
:
First World War

Shelterbelt trees cut for war effort.
1914
:
August
Staff signed signatures on the wall of Thunderbox Room
1916-19
:
Heligan House used as Convalescence Hospital for Officers
1939 – 1945
:
American troops use Heligan House as a base
1973-1974
:
House converted into flats and sold off
:
Chapter 4
Garden Restoration -1990 - 2000
1990
: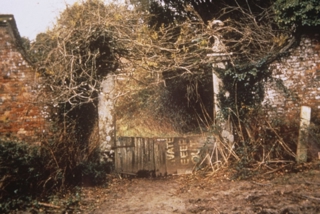 Derelict gardens discovered by Tim Smit and John Willis (Tremayne descendant).

John Nelson begins clearance.

Philip McMillan Browse, then County Horticultural Adviser becomes involved in restoration. Clearance of Melon Yard.

BTCV group clears Eastern and Western Rides.
1991
:
Restoration of Italian Garden.

BBC Gardeners' World broadcasts from Heligan.

Cornwall County Council planning permission given to open to the public.

The Times quote "The garden restoration of the century".
1992
:
Lease signed between Tremayne Estate & Heligan Gardens Limited.

Easter – Garden open to public.

Replanted garden shelter belts.

Restored Northern Summerhouse.

Cleared overgrowth from Vegetable Garden.
1993
:
Clearance of Top Lake in Jungle & building of the boardwalk.

Restored structures in the Melon Yard.
1994
:
Restoration of Flower Garden.

First year's planting in Vegetable Garden and Melon Yard.
1995
:
Which? Magazine quote "Most recommended garden".

Country Life award 'Gardener of the Year'.
1996
:
The Good Gardens Guide award 'Outstanding Gardener of the Year'.
1997
:
Opening of Lost Valley & charcoal burning began.

Six-part Channel 4 TV documentary, (later awarded Garden Programme of the Year).

Private visit from HRH Prince Charles, Duke of Cornwall.

First fruiting of pineapples – one is delivered to the Queen for her 50th wedding anniversary.
1998
:
Pencalenick Glasshouse acquired & restored.

Gold Medal at Hampton Court Palace Flower Show.

First fruits from new vines in the Vinery.

The Good Guide to Britain award 'Garden of the Year'.

Ice sculpture exhibition commemorating lost gardeners on 80th Anniversary of armistice.
1999
:
Second Channel 4 TV series "Return to the Lost Gardens of Heligan".
:
Chapter 5
The Millennium: 2000 - Present Day
2000
:
Partner in The Times 'Grow Good Food Campaign'.
2001
:
The Eden Project opened.

Horsemoor Hide receives first "Live" images from bird boxes.

Propagation from old camellias started.

Rebuilding of Ravine rockery.
2002
:
Queen's Jubilee visit to Heligan stand at CGS Spring Flower Show at Trelissick.

First barn owl chicks viewed on camera from Horsemoor Hide.

BBC Gardeners' World vote Heligan 'The Nation's Favourite Garden'.
2003
:
2003 Radio Times "Britain's finest garden". Heligan voted second only to Kew.
2004
:
Jungle boardwalk totally re-built and extended.

Carved Tree Ferns donated from Chelsea Flower Show for New Zealand garden.
2005
:
3 millionth visitor arrived.
2006
:
Heligan Wild Land Management practices implemented.

The Giant children's book by Sandra Horn and Karen Popham published.

Heligan Wildlife Project featured on BBC TV's Springwatch programme with Bill Oddie.
2007
:
2007 - Creators of The Mud Maid and The Giant, Sue and Pete Hill install a new woodland sculpture – The Grey Lady – on the Woodland Walk.

Hannibal the Heligan Barn Owl eats his siblings alive on BBC Springwatch.
2008
:
2008 Heligan is granted National Collection Holder Status by Plant Heritage for collection: "Camellias and Rhododendrons Introduced to Heligan pre-1920"

BBC Springwatch & Autumnwatch return for an update on Hannibal the Barn Owl.
2009
:
Pineapple Pits produce first fruit in 3 years.

Heligan is awarded a Gold Medal at the RHS Hampton Court Flower Show.
2010
:
2010 Philippa Forrester and Charlie Hamilton James filming for 1-hour BBC Natural World programme, Heligan: Secrets of The Lost Garden.

First written archive regarding Cornish Pasty relates to Heligan.

Autumn visit by rare Green Heron from USA.

4 Millionth visitor.
2011
:
2011 Visit by HRH Countess of Wessex.

Countryfile Magazine Awards – 'Britain's Finest Garden'.

New Lost Valley sculpture revealed – Growth & Decay.
2012
:
Fern Gulley opened in the Jungle.

Noble Isle, Summer Rising body lotion and bath & shower gel launches incorporating Heligan elderflower and gooseberries.
2013
:
Cornwall Today Garden of the Year.

Cornwall Tourism Awards – Garden of the Year – Silver Award.

Father Christmas visits the gardens for the first time.
2014
: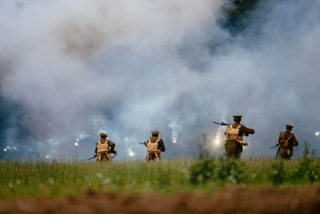 5000 people attend '100; The Day Our World Changed'.

Live location for BBC Winterwatch – Big Garden Birdwatch.

BBC Countryfile Magazine 'Best Heritage Site'.

European Garden Network Award for 'Restoration, enhancement or development of an historic park or garden'.

Cornwall Today Garden of the Year.

5 millionth visitor.

Cornwall Tourism Awards – 'Winner of Winners', 'Garden & Country House of the Year' & Silver in the Wildlife Friendly Business category.
2015
:
Awarded Bronze at the Visit England Awards.

Awarded Silver Gilt at RHS Hampton Court Flower Show.

Private Visit from HRH Duke and Duchess of Cornwall.
2016
:
Renewal and extension of Jungle Boardwalk.

'Remembering The Somme' in partnership with RBL; a ceremony to mark the centenary with an exhibition on West Lawn 'Seven Local Men Lost on the Somme' Battlefield research by Lord John Hutton donated back to Mevagissey, Gorran and St Ewe parishes.

Unveiling of Memorial Plaque in memory of John Nelson on 25th Anniversary of restoration of Italian Garden in front of Gardeners' World cameras.

Rebuilding the Ravine with improved access and new water feature (supplied by water from new bore hole near old Reservoir).

Winner Best UK Leisure Attraction at British Travel Awards.
2017
:
25th Anniversary of Heligan opening to the public to be marked by opening of rare breeds animal barn.

Winner Best UK Leisure Attraction at British Travel Awards for the second year running.
2018
:
Heligan awarded Rare Breed Farm Park status by the Rare Breeds Survival Trust, making it the first rare breeds park in the whole of the South West!

Winner Best UK Leisure Attraction at British Travel Awards for third year in a row.

Large Visitor Attraction of the Year - Cornwall Tourism Awards

Garden of the Year - Countryfile Magazine Awards
2019
:
New Jungle Path - Treseder Steps opens in the Jungle

Included in the top 50 experiences within Lonely Planet's Ultimate United Kingdom Travel Guide.

The Lost Gardens are crowned as the UK's top visitor garden by readers of Garden News magazine.
2020
:
Grow Your Own Magazine - Most Inspiring Vegetable Garden to Visit - Great British Growing Awards