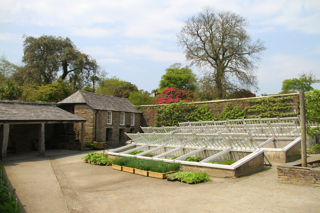 Accessibility
Here at Heligan, we continually work to ensure that all our visitors, whatever their ability, can gain the most from their visit and have the best possible access to our facilities and services.
Access within the gardens
The Lost Gardens of Heligan are spread over a 200 acres estate. Approximately 13 acres of this can be accessed via even paths including; Productive Gardens, Pleasure Grounds and Home Farm as well as access to the Steward's House. 
The Gardens lie on a gentle downhill gradient, so please remember this when you want to make your way back to the exit.
The Jungle and Wider Estate are unfortunately not easily accessible to everyone. The gradients of the pathways to these areas are very steep and sometimes the route involves wooden boardwalk and steps. For this reason and your safety, we kindly ask wheelchair users and those of unstable footing to refrain from entering these areas.
Our Ticket Office has free garden maps and Accessible Heligan maps, which will help you to get an idea of the site and its size. For our latest access map please click here.
Pre-arrival: getting the most out of your visit
Wheelchair and Mobility Scooter Loan
Manual wheelchairs are available to borrow, free of charge, from our Visitor Reception on a first-come, first-served basis.
We also have two mobility scooters available in two time slots: from 10am to 1pm and from 1.30pm to 4.30pm – this includes a short induction although we do insist that visitors have previous experience of using a mobility scooter. Pre-booking is advisable by phoning us on 01726 845100, although bookings are taken a maximum of four weeks in advance. Our mobility scooters are Rascal – Pioneer models which are capable of carrying up to 136kg (21st) and can be used to explore the Productive and Ornamental Gardens, Home Farm, Stewards House and Wildlife Hide. These scooters and are not suitable to be used within the Jungle, Lost Valley and some of the more rugged areas within the Heligan Estate. 

To check-in for your scooter induction, please drop into our Visitor Reception.
To get the best experience from your visit, please ask for an Accessible Heligan map and access advice from our Reception team before going off to explore the gardens. You are most welcome to bring your own motorised wheelchairs or scooters but please be advised that this is at your own risk.
Arrival
Car Park
Accessible parking bays are situated nearest to the entrance; these bays are on flat ground and have a compacted gravel-dust surface. The parking bays start at approximately 50m from the entrance facilities.
When you drive into Heligan please display your Blue Badge clearly if you have one.
If arriving by taxi, they will drop you off at our nearest point to the entrance, adjacent to our Coach Park. This also serves as the pick-up point too.
Toilets
We have ample toilet facilities on arrival, including left and right hand transfer accessible toilets for wheelchair users and ambulant visitors with RoomMate installed to assist our blind and visually impaired visitors, as well as baby changing facilities. Further facilities are available inside the gardens at the Steward's House, including an accessible toilet.
All facilities feature; alarms, tactile signage, lever style taps and colostomy shelves.
Changing Places Toilet
Our Changing Places toilet can be found within the main set of toilets and is equipped with a free-standing, height adjustable, changing bench with a safe working load of up to 190kg. There is also a height adjustable sink and a Likorall 242 hoist, suitable for all looped slings which can lift up to 200kg. Please note – we do not provide slings and there are no shower facilities.
The toilet is available to use within our opening times and requires a RADAR key which can be borrowed from a member of the Heligan Stewarding Team.
During your visit
There are various resources that may assist you during your time with us at Heligan:
The Lost Gardens of Heligan Accessible Heligan map can be downloaded here
Large print information can be collected from the Ticket Office.
​As a general rule: your outward journey route will be mainly southbound and downhill, your return journey mainly northbound and uphill. We recommend you plan your route carefully allowing for plenty of resting and refreshment stops.
Useful contacts
We welcome any feedback about your experience to help us improve, the best way is to get in touch is via our contact page or 01726 845100.
If you require First Aid during your visit, please feel free to approach any member of the team, who will call for the nearest First Aider. You can also call our Emergency Line (during opening hours) on 01726 845102 who will again arrange for First Aid assistance.
Public Transport

First Kernow
Bus

www.firstgroup.com/cornwall


Mevagissey Ferries


www.mevagissey-ferries.co.uk


National Rail Enquiries


www.nationalrail.co.uk


Travel Cornwall


www.travelcornwall.uk.com

Taxi companies with accessible cars:

Gary's Taxis


01726 72023


Kernow Cabs


01726 76314


Spot On Cabs


01726 77877


Star Cars


01726 66636


Yeo's Taxis


01726 814095

Other

Tremorvah Industries


www.cornwall.gov.uk/health-and-social-care/tremorvah-industries/