Introduction
Heligan is one of the most mysterious estates in England. Lost to the brambles of time since the outbreak of WW1, this Sleeping Beauty was re-awakened in 1990 to become Europe's largest garden restoration project. Today Heligan's 200 acres are a paradise for the explorer, wildlife, plant lover and garden romantic.
History & Restoration
At the end of the nineteenth century Heligan's thousand acres were at their zenith, but only a few years later bramble and ivy were already drawing a green veil over this "Sleeping Beauty". The outbreak of WW1 was the start of the estate's demise as its workforce went off to fight in the trenches; many sadly never to return.
This was a story played out in many of the large estates throughout Britain's war period.
Unlike many other estates, however, the gardens and land at Heligan were never sold or developed. In fact, it wasn't until the 1970s that Heligan House itself was eventually sold and split into private apartments.
After decades of neglect, the devastating hurricane of 1990 should have consigned the now lost gardens to a footnote in history.
Instead, events conspired to bring us here and the romance of their decay took a hold on our imaginations. Our discovery of a tiny room, buried under fallen masonry in the corner of one of the walled gardens, was to unlock the secret of their demise. A motto etched into the limestone walls in barely legible pencil still reads "Don't come here to sleep or slumber", with the names of those who worked there signed under the date – August 1914. We were fired by a magnificent obsession to bring these once glorious gardens back to life in every sense and to tell, for the first time, not tales of lords and ladies but of those "ordinary" people who had made these gardens great, before departing for the Great War.
In 2013, the Imperial War Museum recognised Heligan's Thunderbox Room as a 'Living Memorial' to 'The Gardeners of Heligan'. A plaque, a Cornish shovel and a WW1 helmet now mark the spot and details can be found on www.iwm.org.uk under entry 63622.
We have now established a large working team with its own vision for our third decade. The award-winning garden restoration is already internationally acclaimed; but our lease now extends into well over 200 acres, leaving the project far from complete. We intend Heligan to remain a living and working example of the best of past practice, offering public access into the heart of what we do.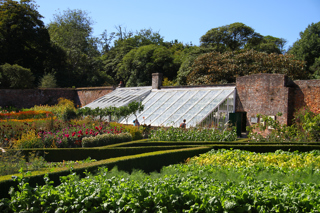 Our contemporary focus is to work with nature, accepting and respecting it and protecting and enhancing the variety of habitats with which our project is endowed.