Careers
Would you like to join our dynamic, committed team? If you're looking for jobs in Cornwall and think you'd make a great addition to Heligan, browse our current vacancies below.
Why work for Heligan?
We work within a values-based culture, where core beliefs shape our decisions and approach. Described by Judges at the Apprenticeship Awards as 'a shining beacon of good practice... that is setting a fantastic example for the hospitality sector and employers across Cornwall, with a real commitment to learning and development making it well placed to retain and attract new talent'.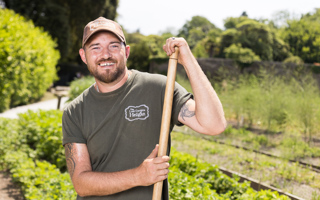 At Heligan we believe that understanding the world we live in is fundamental to what it is to be us, and we're on a mission to share this with our immediate and wider community.
Our gardens are a living theatre to reconnect people with nature, themselves and each-other. They are also an inspiring workplace and we believe one of the best places to work in Cornwall. 
Heligan is dedicated to the development of its team, with many staff on informal training and dedicated apprenticeship schemes. This commitment was recognised in Cornwall as we were recently awarded the SME Employer of the Year at the Apprenticeship Awards.