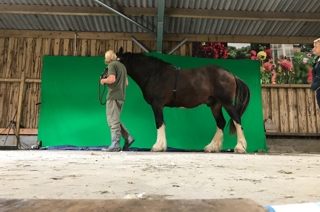 'The making of'...new artworks for Heligan By Night 2019 by Ulf Pedersen
This year artist Ulf Pedersen is creating new video projections reflecting the incredible happenings at The Lost Gardens of Heligan. From growing pineapples to seed scattering, pollen-laden bees and the vital work of the Heligan gardeners. Ulf took a trip to Heligan in September to start work on developing his new ideas. Read on for an insight into the making of new artwork inspired by the Heligan Gardeners and animals. 
A fine sunny day as I packed my camera equipment and travelled down to Heligan to video the gardeners for some new work for Heligan By Night.
Upon arrival, I was asked by Claire if I might want to shoot (video!) one or two of the rare-breed animals that reside at Heligan. Little did I know that one of the candidates was a mighty shire horse called Courage, and what a formidable beast he was!!
It was all a little unsettling as I lay on the floor, camera in hand, waiting for this giant to enter the barn. I could hear the sound of his hooves nearing-ever-closer until there was a moment where he blocked the light as he entered the doorway. I was thankful that Louis held him by the reigns and guided him past the green-screen whilst I let the camera roll! This colossal animal was taller than the green-screen itself: Take 2; Take 3; Take 4 as Louis patiently brought Courage around again and again persuading him to walk closer to the green screen to fit him into frame.
10 minutes on, I finally got the shot. Thank you Courage - you've been a star!
By Ulf Pedersen