The Lost Gardens of Heligan celebrates the coronation of King Charles III
As we look ahead to our Celebration Garden Party in honour of His Majesty King Charles III's Coronation, we explore his visits to The Lost Gardens of Heligan.


Over a long period Heligan has enjoyed the honour of hosting royalty, not least because the heir to the throne has customarily assumed the title, Duke of Cornwall - with a local base at Restormel Castle in Lostwithiel. The last resident Squire, Jack Tremayne, was a Captain in the Duke of Cornwall's Light Infantry and occasionally hosted its royal figurehead at Heligan. A century on, His Royal Highness Prince Charles, as Duke of Cornwall, used to make at least annual visits to the adjacent Restormel Lodge and has visited the ongoing garden restoration at The Lost Gardens of Heligan on more than one occasion.
His first was a Private Visit, in June 1997, when the gardeners here were feverish with excitement at the prospect of success in fruiting a first pineapple in the restored Pineapple Pit. The pioneers of the restoration, John Nelson and Tim Smit provided the tour, culminating in a discussion about the temperature that had to be fired by the fresh horse manure piled into the adjacent trenches, whilst trying to avoid the use of too rich a vocabulary! As it so happened, 1997 later proved to be the year our Head Gardener Richard Dee finally succeeded in fruiting our precious pines. Tim took it upon himself to hand deliver one to Her Majesty Queen Elizabeth II in celebration of her Golden Wedding Anniversary, for which Richard received a thank you letter from the Palace.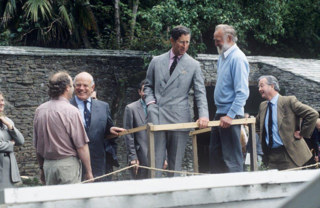 In 2015 the then Duke and Duchess of Cornwall, H R H Prince Charles and Camilla, made an official visit to Heligan, for which we were involved in months of preparations. We knew already, having enjoyed a garden tour at Highgrove, that the Prince was not only a very keen gardener, but interested in wild gardens and rare breeds of farm animal. After months of preparations, the garden and home farm restoration here was presented in absolutely immaculate condition; but what our new King was even more interested in were his people. Though it was a miserable, foggy, wet day, he delighted in meeting the visitors who had lined themselves along a planned route, as well as our staff team and the relatives of former gardeners who had served in WW1. The children of Gorran School performed a song in the Melon Yard and a granite plaque records the date of their visit at its southern gateway.