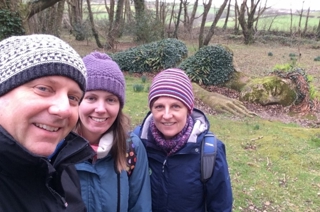 Sarah's Story - Inspiring Stories from Children's Hospice South West and Little Harbour
Children's Hospice South West provides care and support to families living in the South West, who have children with life-limiting conditions. They provide specialist palliative care, respite for the whole family, a sibling service for brothers and sisters, emergency support, end of life care and a bereavement service for as long as is needed.
At Heligan, we aim to create a beautiful, safe environment for people to reconnect with nature, themselves and their friends and families. Giving space to simply 'be' in nature and the present moment. Over the last few months we've had the privilege of listening to families supported by CHSW share their stories.
Sarah was 16 years old when she was diagnosed with a brain tumour and cancer. Little Harbour supported Sarah through chemo, radiotherapy and exams.
"The Care Team at Little Harbour were with us every step of the way, guiding and supporting us, as a family, through palliative care and preparing us for end of life care. It's during this immensely difficult time that you realise just how skilled and talented the care team really are. The Lost Gardens of Helligan were a really special place for Sarah, somewhere she could appreciate nature, enjoy the fresh air and taste the delicious coffee and cake."
This year The Lost Gardens of Heligan will be sponsoring the green paint station at The Rainbow Run. If you'd like to support the event you can sponsor the participants or donate online, as well as reading more about Sarah's story.