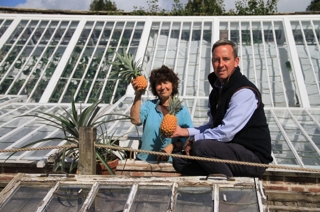 Lost Garden Rum
We're very proud to announce that we have collaborated with Trevethan Distillery to produce 'Lost Garden Rum'.
In 1920s Cornwall, the historic Heligan gardens were falling into decline following the loss of its gardeners in WW1; yet as Heligan became lost to the brambles of time, at the same period Norman Trevethan was developing his expertise in gin making on the Port Eliot estate in Cornwall. This lost and found story enters a special partnership a century later to produce an innovative handmade distilled rum infused with some of the distinctive heritage flavours The Lost Gardens have to offer.
This Caribbean style rum has been crafted using sugar cane molasses fermented here in Cornwall and then distilled using traditional copper alembic stills. Cornish virgin charred oak, that has been soaked in our Black Bee Honey, and Pedro Ximinez sherry is added to the distilled rum to age for eight weeks. The final infusion of flavour comes from adding the juice of our very own Heligan grown pineapples!
John Hall, Head distiller from Trevethan Distillery, explained how he has delicately captured the spirit of Cornwall in the 'Lost Garden Rum': "The key to this process was to create a rum that would marry perfectly with the subtle flavours of the Heligan Black Bee Honey and Pineapples; whilst staying true to traditional methods. Distilling has always been about the balancing of flavours, no one flavour being the star, but a combination of flavours creating an exhilarating tasting experience."
This collaboration of our two iconic Cornish brands in creating such an exciting product that celebrates the very best of what Cornwall has to offer, will undoubtably get your taste buds salivating.
Dina Gallick, who looks after the Heligan pineapple pits, said, "Our pineapples are just amazing, they are one of the best things about Heligan, they defy the odds of growing and fruiting in a harsh environment thanks to Victorian horticultural ingenuity and our now world-famous Pineapple Pits. Most importantly they taste just like a fruit grown in the tropics themselves. I can really identify with how special these plants were to the Victorian plant hunters who went to such great lengths to grow them, they really are the most beautiful plants."
 'Lost Garden Rum' will be available exclusively through The Lost Gardens of Heligan and Trevethan Distillery at the price of £49.95. Only 120 bottles of this limited release rum will be made available using both the Heligan Pineapples and the Black Bee Honey. Pre orders are available now by calling Heligan Shop on 01726 845114. Collection will be from Tuesday 4th February, please contact the Heligan Shop to discuss postage.