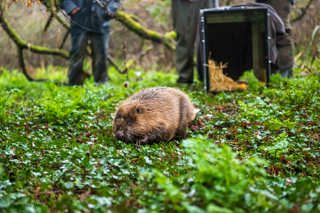 Beavers return to Heligan for the first time in 400 years
The pair have been released into a 22-acre site which includes ancient woodland, pasture and small headland streams. It is hoped that the animals will increase biodiversity in the area, and their progress will be shared with visitors and local schools.
"We're very excited beavers are back at Heligan," says Toby Davies, our Wildlife Co-ordinator. "Having beavers on site will allow us to tell their story to our visitors, from their extinction from Britain 400 years ago, to their vital role today building biodiversity as well as dams wherever they go.
"Though you're more likely to see their trails than their tails, because they're quite secretive animals, so you probably won't see them when you come to visit us."
The beavers have found their forever home at Heligan having made the short journey from The Cornish Seal Sanctuary in Gweek, south Cornwall.
"This move demonstrates the full-circle success of the Secret Creek beaver project here at the sanctuary, which began as a collaboration between a number of organisations," says Tamara Cooper, curator at the Cornwall Seal Sanctuary. "To see this next phase of the project is incredibly exciting, and we can't wait to see how the beavers settle into their new home at Heligan, as we get ready to welcome our own new residents!".
The release marks the result of a partnership between 3 Bays Wildlife and Beaver Trust.
Dr Roisin Campbell-Palmer, Head of Restoration at Beaver Trust, comments: "This is a moment to celebrate finding a local site with suitable a habitat to receive this pair of beavers to continue their own journeys. We're delighted to work in partnership with Heligan to bring learning and beaver knowledge to their visitor audience and to so many local young people. Education is an important part of the reintroduction of this species as we learn to coexist with them again."
Toby adds: "The Heligan Beaver Project would not have been possible without the advice and funding of the Cornwall AONB Farming in Protected Landscapes Fund which provided 70% financial support for the enclosure fencing. One of the project's main aims is to better understand the relationship between re-introduced beavers, grazing animals and farming."
We will monitor if the animals' impact flood mitigation by building dams across the headwater streams at Heligan, which could slow down flash-flooding affecting villages downstream, such as Mevagissey.