A Wildflower Wonder
The buzz of the summer has arrived at Heligan as we reveal a Wildflower Wonder courtesy of renowned British Artist, Jamie Reid.

Known for his works with the Sex Pistols, Suburban Press, the Strongroom recording studios and the Afro Celts Sound System, Jamie Reid might not be someone who you might associate with Heligan, until now.

11 acres of glorious wildflowers within Valentine's Field have awoken to help create Jamie's latest work in the form of the eight-fold year. We encourage our summer visitors to open their senses to the sights, smells and sounds of corn marigold, corn chamomile, cornflower, bees and other vital pollinators within the intriguing Ova.
We are so pleased to have had the opportunity to work with the artist Jamie Reid. The Ova symbolises the eight-fold year and to have Jamie's design quite literally rooted in Heligan's soil is a beautiful thing
Alasdair Moore, Head of Gardens and Estate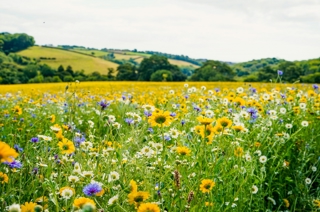 The OVA symbol represents rebirth and growth and healing and encompasses the points of the 8-fold year, the solstices and equinoxes which will be revealed throughout the year at Heligan
Jamie Reid
The Ova represents a shared and ancient bond with the earth, with nature and the seasons, something that is deeply meaningful for all at Heligan. The joy of this project is that it has brought so many folk together – Heligan, John Marchant Gallery, the Sensory Trust and the Order of Bards, Ovates and Druids. We were also delighted to work with Richard Scott of the National Wildflower Centre once again.

This spectacular wildflower is now in bloom for you to enjoy, alive with the sounds of bees and other vital pollinators.