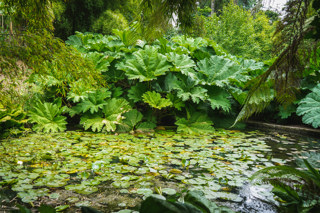 Jungle
Welcome to the Jungle! The UK's only outdoor Jungle.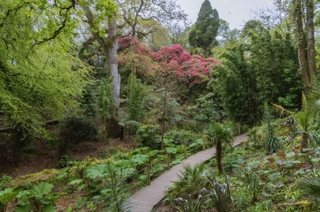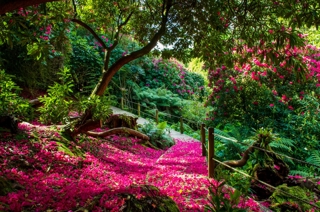 Exuberant garden
This exuberant garden hosts a riot of luxuriant foliage, outstanding trees, exotic plantings and inspiring views, drawing the imagination on a journey far from our temperate shores.
Take an adventure through our tropical gardens, passing along our raised boardwalk, snaking around four ponds, past giant rhubarb, banana plantations and avenues of palms. Lose yourself in tunnels of towering bamboo and feast your eyes upon a flourishing plant collection.
The Jungle sits in a steep-sided valley, creating a microclimate at least five degrees warmer than the Northern Gardens. Here the exotic palette of plants brought back from across the world, both by the intrepid Victorian plant hunters and more recent collectors, flourish before your eyes.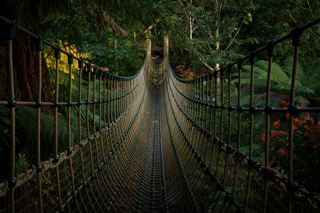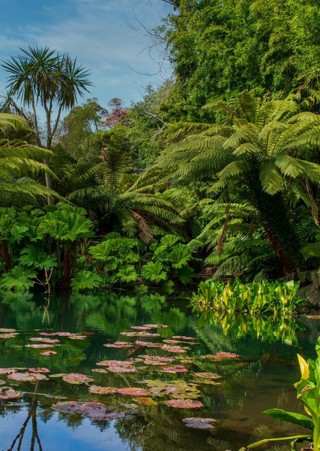 The Jungle Team
The Jungle Team are not bound by the period correctness that we employ in the Northern Gardens and continue to evolve the Jungle with the same spirit as the Victorian plant hunters; by introducing whichever planting aids their Jungle vision.
Over the last few years, the team have developed the Jungle experience to new and exciting levels. Intimate pathways edged with sub-tropical plantings have been created through the heart of the valley and its watercourses, and a rope bridge now extends across it all; offering a whole new Jungle perspective.
Considered one of the longest Burmese Rope Bridges in Britain, stretching 100 feet above ancient tree ferns and across the Jungle floor, our rope bridge has added a very real sense of adventure to an already tropical experience. We hope you enjoy it – if you dare cross!
Look out for
New Zealand Yew

The largest specimen of its species in the UK. This beautiful evergreen stands sentinel at the side of Second Pond.

Wollemi Pines

The Wollemi pine was only discovered in 1994, in an ancient gorge in the depths of Wollemi National Pak in Australia. These modern day discoveries were first introduced to the Heligan Jungle in 2012, where we planted a small copse along Gardener's Walk. They are simply not something you will have the chance to see in many other gardens, and we believe ours is the only planted group in the UK.