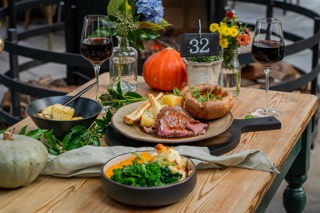 Sunday Roasts at Heligan
7 Jan:
14 Jan:
21 Jan:
28 Jan:

Join us in the Heligan Kitchen on Sundays (from 7th January) to enjoy a homemade roast, comprising of the finest Heligan reared meat and local produce (vegetarian option are available).

Bookings are available at 12noon and 2:00pm with roasts being served each Sunday from 29th October.

To book your table, please click here to e-mail the Heligan Kitchen team.

Please state the size of your party and the time of your booking. Walk-ins are also more than welcome.
To download sample menus for our Sunday Roasts, please click here.