Heligan Night Garden
Join us this winter at the Heligan Night Garden and become immersed in an enchanting lantern experience, set amidst the atmospheric Lost Gardens.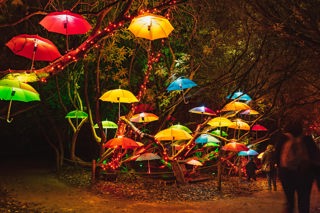 Journey through the magical garden trail, exploring woodlands and gardens beautifully lit with installations and lanterns. Discover breath-taking displays of fauna and flora as we celebrate the characters of our community, all illuminated within Heligan's much-loved and iconic locations. 
Our night time route will include fresh installations as we once again be work with The Lantern Company. A leading UK outdoor arts organisation, they bring artists and communities together to create spectacular events.
The Lantern Company's illuminated installations at Heligan holds up a nocturnal magnifying glass to the often-overlooked wonders and beauty of nature on our doorstep. From badgers to fungi, bees to butterflies, and a joyful family of cheeky Tamworth pigs, this illuminated seasonal trail creates a treasure-filled space for families and friends to discover these beautiful indigenous species.
Following an extended 1-mile one-way journey around our accessible Gardens, the Heligan team will direct you to discover nature in a celebration of the wildlife that make Heligan their home all year round. Explore at your own pace, stop to take in the smells, toast marshmallows by our stunning fire bowls, experience our glittering oak trees, and enjoy seasonal warming take away refreshments and meals amid a truly festive backdrop for your Winter's evening.
We expect the magic will make you want to walk the route more than once, which is encouraged. However please do so with respect for others.
The route will take 1 hour approximately to complete, depending on how fast you move or how long you dwell!
The Heligan Night Garden is an outdoor experience and so we suggest sturdy footwear, torches, and appropriate dress for the Cornish weather. The route is suitable for wheelchair users and pushchairs, and alternative routes are provided where the pathways become more challenging. It is not recommended to bring dogs to this event.
The Heligan Shop will be open selling festive treats, local produce, and a variety of beautiful gift ideas for the festive season. Make sure you visit the festive tasting counter to try something new and delicious!
This year we will be offering Lantern making workshops for children to attend to create their own handheld lantern to light their path whilst they explore night garden. Pre booking essential for these workshops, which will be available each evening of Night Garden from 4pm-6pm for workshop ticket holders only. Please click here for further information.